Dedikerade, handplockade WordPress-utvecklare
Denna modell passar när ni vill arbeta med en specifik WordPress-utvecklare. En handplockad konsult kommer då att stå till er tjänst, på heltid.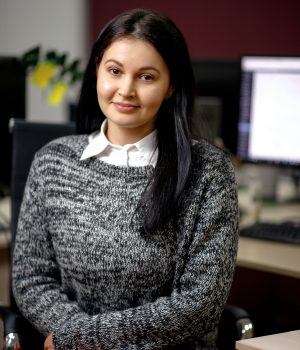 Does she know other languages apart from English?
Yes, she is learning Spanish to be able to sing along with Enrique Iglesias.
What's her favorite computer game?
She's a big fan of the Witcher.
Is she a dog or a cat person?
100% cat person. She thinks cats are the best. She had a cat and got a tattoo of that cat to keep it with her at all times.
According to her grandma, Anastasia is doing something with computers but she's not quite sure what exactly it is.
Initially, Anastasia studied management in agriculture, but her heart was longing to code. She's been working with WP for two years already and it seems like she made the right choice. Anastasia enjoys being a developer because it allows her to grow professionally every day, rather than remaining in the same spot. Of course, sometimes she faces tricky challenges but she knows what to do in these cases: Google it. When it doesn't help, she can count on her supportive team, that are always ready to help.
Skillset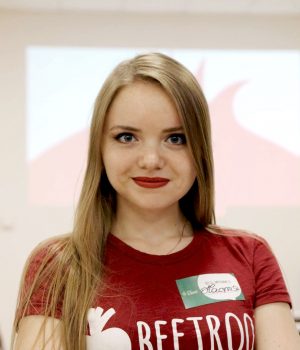 What sets Anastasiia apart from other developers?
She's a big fan of team building activities.
What's her favorite travel destination?
It does not matter to her, as long as there is an ocean nearby.
What would she choose: a beef ribeye steak or a piece of chocolate cake topped with whipped cream and strawberries?
The cake. Definitely the cake.
Combining WordPress development and motherhood requires a juggler's coordination.
After getting a degree in Economics, Anastasiia enrolled in Beetroot Academy to learn WordPress development. It has been three years since her graduation, as she managed to build a substantial platform of knowledge and experience following her involvement in many different projects over the years. She thinks that it's important to dive into each development process with eagerness, passion, and determination to do her best. While being on parental leave, she made sure to continue learning new skills. Her current goal is to master a new JS-framework, such as Vue.js or React.js.
Skillset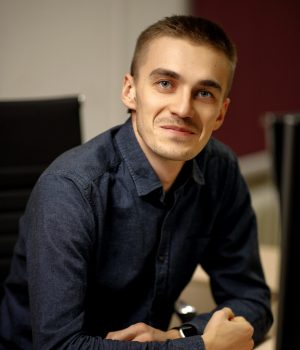 How does he feel about his job?
He claims to love his job more than playing FIFA on PS.
Is he a good singer?
Yes, he used to work at karaoke and now the team always asks him to sing at parties.
What are his travel plans for the future?
To visit every single country in the world. Every. Single. One.
From being a student to teaching others: Dmytro could've easily become a Ted Talks speaker but he prefers writing codes.
Four years ago, Dmytro decided to start learning programming and registered for the Beetroot Academy WordPress course. After finishing it, he was offered to stay with the company. He is still here now, developing custom, nontrivial solutions, and building applications' logic. At some point, Dmytro realized that he wanted to share his experience with other people and signed up to be a Front-end and WordPress Basics teacher. Therefore he made a full circle and is ready for new adventures to come.
Skillset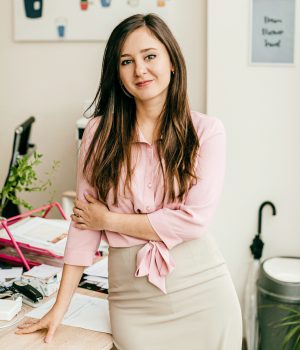 What is she doing outside of the office?
She's a fan of walking. She's also a fan of cycling. Thus, if you see Olena out and about in the city, she'll be either walking or cycling.
What would she choose: skiing or snowboarding?
Why would she have to choose in the first place? She enjoys both!
Can she do the splits?
Duh, on top of that, she can even code while doing the splits.
We don't have reliable evidence but Olena reportedly dreams about PHP when she sleeps, because she just loves it so much.
Olena has always been a fan of technology and the way it improves the lives of people. This is the reason why she attended a university in Odesa and received a degree in information technology. She's been working in the field of commercial web development for four years and is planning to continue polishing her skills in this field. Her favorite part of work is getting her hands on a complicated project or plugin, creating new algorithms, developing out-of-the-box solutions and then watching how it all fits together like a perfect puzzle.
Skillset